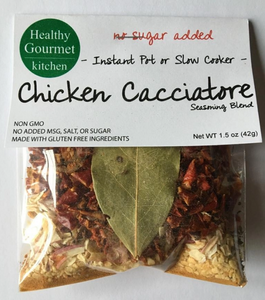 Chicken cacciatore is also called hunters stew and originated in northern Italy. Chicken cacciatore is chicken braised with vegetables in a wine & tomato sauce. Simply delicious.
This seasoning blend has no added salt or sugar, msg or preservatives.
It's vegetarian and vegan as is as well as low sodium.
Complete recipes for the slow cookers and instant pot. You can also the chicken cacciatore seasonings on the stovetop or in the oven.